No Hardware Or Software Required
Room-to-Remote Video Conferencing
From your conference room video system, you can have a BlueJeans meeting with other conference room systems, computers, and mobile devices. No additional hardware or software required. Just BlueJeans.
Interoperability
In addition to conference room video systems, most companies have desktop software like Microsoft Lync or Cisco Jabber for internal chat and video.
Employees also bring mobile devices to work. BlueJeans enables all of these devices and services to connect to the same video conferencing meeting
for simple, any-device collaboration.
Other H.323/SIP Room and TelePresence systems
Web Browsers
Mobile Devices
Software-based Video Clients
PSTN Audio
Cloud Conferencing the Way You Always Wanted
Business grade multipoint video conferencing with more capabilities and fewer restrictions at a significantly lower cost than traditional bridging hardware. Why settle for status quo when you don't have to? BlueJeans cloud video conferencing platform breaks the barriers of infrastructure deployments and frees your organization to use video the way you've always wanted to.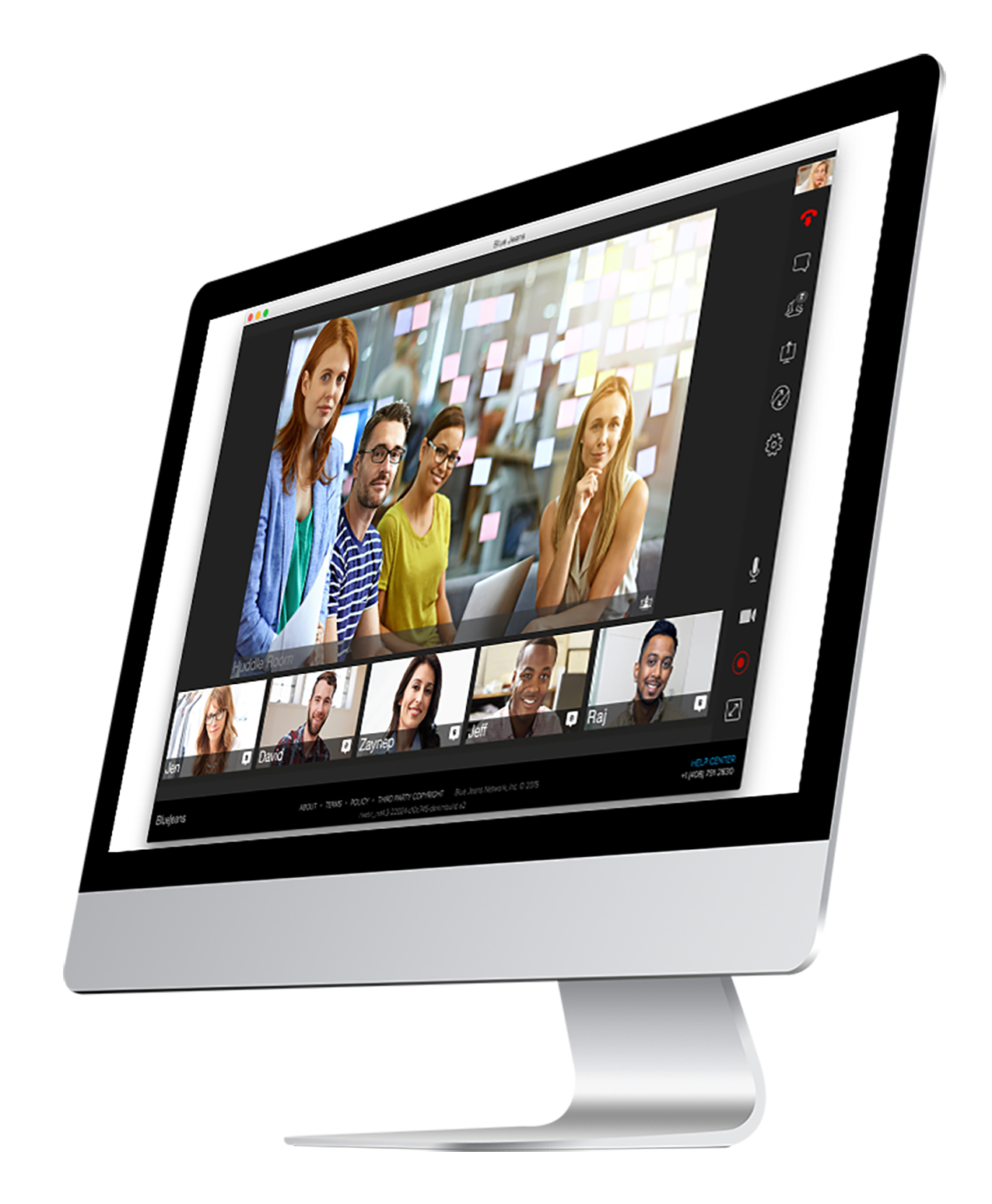 The Good, The Better & The Best with BlueJeans
Key Benefits
Risk-free, no CAPEX investment
Up to 75% savings when compared to the five-year total cost of ownership for a typical hardware based MCU
Right size, not oversize – elastic cloud model lets you right size for regular use and leverage burst capacity for occasional usage peaks
Capacity scaling to meet the demands of a mobile workforce
Compatible with existing video infrastructure investments
Easy, self-serve model frees IT from having to manage resource scheduling
Instant deployment
A New Class Of Events Has Arrived
BlueJeans Primetime makes self-service, collaborative events easy for organizers, presenters and attendees.
Cloud-based Service
By leveraging the cloud, BlueJeans offers a solution that connects devices together into multi-party video conferences without requiring MCU hardware. You can also add users on demand, at your own pace. More and more companies are turning to the cloud for their most critical business needs. BlueJeans cloud-based service provides an instant, easy and scalable video conferencing platform. No hardware or software to manage.
Instant deployment
Globally distributed architecture
Reduced IT burden with no on-premise hardware or software to manage
Eliminate costly maintenance contracts and updates
Robust end-to-end encryption for all meeting in the cloud
Enterprise-ready
Enterprise-wide rollout couldn't be easier with BlueJeans. Admin level features equip IT managers with the tools to easily support and manage multiple aspects of the service.
SSO (SAML) support for rapid on-boarding and access to BlueJeans service
Custom landing pages for quick and easy branded access to the service
Comprehensive reporting and troubleshooting tools
24/7/365 Support – phone/email/online
Scalable
Traditional video conferencing infrastructure requires you to buy for maximum capacity. We think that model doesn't necessarily have your best interest in mind. BlueJeans dynamically scales to meet your fluctuating needs, without requiring you to overbuy.
No fixed capacity, unlimited concurrent meetings
Elastic port allocation lets you use what you need, whenever you need it
Each virtual port supports any connection from PSTN audio to HD video
Ability to cascade to your current MCU for added capacity
Mobile Friendly
Just about every employee uses mobile devices for work-related activities such as checking email and viewing presentations, so it's important that these devices can connect to core communication services like video conferencing. BlueJeans enables smartphones and tablets to connect to the same video meetings as conference room systems and computers, helping you to collaborate with anybody while you're on the go.
Robust Firewall/NAT Traversal
Because BlueJeans sits in the cloud as a meet-me service it eliminates much of the complexity and additional hardware required to manage firewall/NAT access typically required for an on-site MCU deployment.
Native Firewall/NAT traversal
Endpoints remain secure behind company firewall
Easily connect to partners, customers and vendors without complex configurations, dialing strings or additional hardware requirements
Scheduling and Joining is Easy
Schedule on the fly, join via meeting ID and start your personal meeting – all through your BlueJeans mobile app.
Content Sharing
You can easily share content with other meeting participants from your conference room video system, including presentations, spreadsheets and videos.
HD screen sharing, up to 1080p resolution
Real-time video sharing by leveraging your laptop
Participant-controlled content and video window scaling
Zoom capability
Video Sharing
Ever wanted to share videos during a video conference? Now you can with the all-new video sharing feature
Upload videos for easy sharing during meetings
Synchronous playback across all meeting participants on any platform, including mobile devices and room systems
Push-to-talk for collaboration during video playback
Ability to scale shared video clip to ideal size
Interoperable
With the industry's broadest range of multi-vendor interoperability, participants simply use whatever video enabled device or software they have available to connect effortlessly to a BlueJeans meeting.
H.323/SIP Room and TelePresence systems
Desktop systems
Soft clients
Unified Communications Clients
MCUs
Web browsers
PSTN Audio
Easy-to-use
It doesn't take a manual or a cheat sheet to schedule, host or join a BlueJeans meeting. BlueJeans finally makes video meetings easy. Don't just take our word for it try it for yourself.
Start Unlimited 14 Day Trial