Lifesize Makes Video Conferencing
Simple And Portable
Enjoy features like point-to-point audio or video calling, connect your conferencing rooms to meeting participants
in a variety of locations on any number of devices, host large team meetings and record presentations
for your video conferencing with easy to use plug and play connected devices.
Connected, Intelligent Devices

With Lifesize's great endpoints, USB camera and cloud services, you will have a clean end-to-end video conferencing experience. An intuitive, consistent interface, user directory and ease of use means less training and more rapid adoption. High-quality video and content sharing brings meetings to life. Lifesize SIP integration capabilities delivers truly unified communications. Price to performance – Lifesize is the best in market.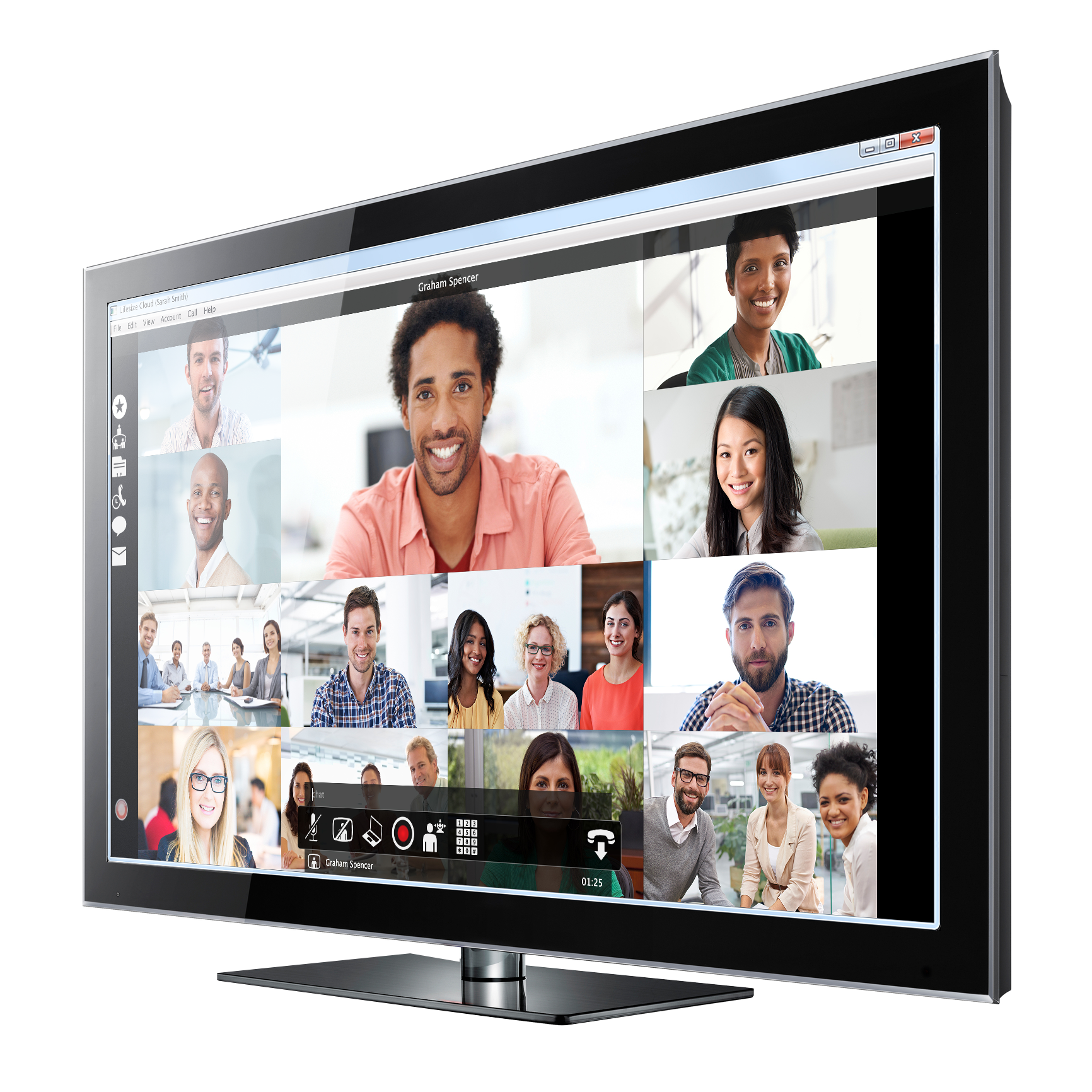 Lifesize Cloud
Lifesize Cloud makes it easy to join any meeting from anywhere. With Lifesize Cloud, you get search-based directory for instant calls, calls via your desktop or browser, easy screen sharing, live chat one-on-one, Google and Outlook integration and Lifesize Cloud Amplify.
Benefits of Lifesize Cloud Video Conferencing
Quick to access, easy to use.
Get up and running right away via your Google Chrome browser with the Lifesize Cloud Web App. And because Lifesizes UI is intuitive, you wont need an IT degree to use it.
One click to connect.
Lifesize Cloud is the only cloud-based, business-class video conferencing service that lets you call another person or meeting room directly. Pick a name or meeting room from the search-based directory and connect.
Use on the leading devices and browsers.
PC or Mac, tablet and smart phone (Android or iOS), Google Chrome or Internet Explorer. You can even join a Lifesize Cloud call from your Skype for Business client.
Reliable, safe and secure.
Go ahead and discuss top-secret information in confidence because Lifesize is powered by SoftLayer, an IBM Company, which means your conversations are encrypted. The service is also redundant and fault tolerant for unmatched reliability. In addition to the stellar support Perfect Video Conferencing provides, the awesome Lifesize Cloud Extreme Support Service team is available 24/7/365 to help ensure that your experience with Lifesize is phenomenal.
Automatic software updates.
You'll always have the latest and greatest as the software updates automatically every time a new feature is available. You can even subscribe to receive real-time status updates so you're always in the know on the latest and greatest updates.
Connected, intelligent devices
Lifesize is the ONLY vendor that makes a cloud bridge that populates the directories on the endpoints
Customers have lower cost to deploy
When Perfect Video Conferencing and Lifesize assist with installs, we use a web-based management to set up a global directory
Directory services can also include non-cloud connected systems
All connected devices get the directory automatically
Endpoints get automatic upgrades
Lifesize Icon Series
Lifesize Icon video conferencing systems are so easy to use that you can instantly connect with everyone you need, from anywhere. Perfect Video Conferencing has installed hundreds of these systems for its customers and can do the same for you! With the Icon system, you can add individuals and other conference rooms to your conversation with a click, share your screen, use virtual meeting rooms for regularly scheduled meetings, record and share with Lifesize Cloud Amplify, and of course pair with Lifesize Cloud.
Connected device for instant connections!
All Lifesize Icon video systems connect to Lifesize Cloud, an award-winning cloud service, so that you can take your conversations with you no matter where you are on whatever mobile device you happen to be using.
No technology degree required.
Setting up a Lifesize Icon is easy. Place your system in the meeting room, connect to a power source, display and Internet; and then let everyone know its ready for video calling.
Be a video conferencing pro.
You'll quickly become a master at video conferencing with Lifesizes intuitive UI, which clearly shows you how to place a call, add someone to your meeting, share your screen and more.
Automatic software updates.
When you pair your Lifesize Icon video conferencing system to Lifesize Cloud, you'll always be up to date as software updates automatically every time a new feature is available.
An Icon for every meeting space.
Once you start using the Lifesize Icon video conferencing system, nothing else will compare. And there's an option for all of your meeting room sizes. Now go forth and share the power of collaboration.
Lifesize Icon 400
Great for meeting in huddle rooms with small groups in attendance
System with embedded PTZ camera
Lifesize Digital MicPod
Lifesize Remote Control
Power supply and cable
Support for single display
Lifesize Icon 450
The Icon 450 is perfectly designed to bring the power of video conferencing to huddle rooms.
Lifesize Icon 450 with integrated PTZ camera
Lifesize Phone HD
Power Supply/cables
Lifesize Remote Control
Lifesize Icon 600
The Icon 600 supports multiple displays, cameras and microphone inputs, making it perfect for large meeting spaces.
Lifesize Icon 600 video system
Lifesize Camera 10x
Lifesize Digital MicPod
Lifesize Remote Control
Power supply/cables
Lifesize Icon 800
The Icon 800 is perfect for expansive meeting spaces and allows you to connect multiple devices while still delivering an immersive high quality experience.
Lifesize Icon 800 video system, with rack mounts attached
Lifesize Camera 10x
Lifesize Link Adapter
Lifesize Remote Control
Cables
Lifesize Icon Flex
The Icon Flex allows you to use applications such as Skype for Business/Microsoft Lync, Google Hangouts, Cisco Jabber, Skype. It requires no tools and can be connected to any laptop via USB. Icon Flex brings high quality video, audio and support to your collaboration application when being used in the meeting room.
System with embedded PTZ camera
Lifesize Digital MicPod
Lifesize Remote Control
Power supply and cable (2 m)
USB A to USB B cable (5 m)
Ethernet cable (3 m)
Easy setup – no tools required
Connect to any laptop via USB
Touchscreen phone with integrated mics and speaker
360 audio microphone pickup
Dedicated IP phone, use for all of your audio calls
Quiet pan/tilt 6x zoom camera
Greater than 70 field of view
Lifesize-operated support team
Lifesize Phone HD
The smart phone for your conference room. With the phone HD, you can share content, launch calls, join meetings, change layouts and control the Lifesize camera right from your phone.
Start Unlimited 14 Day Trial