Video Conferencing That Always Works – No Matter What…
We get it. Your time is important and your online meetings need to work all of the time, every time. And it needs to be simple. With Zoom, you get a great video conferencing meeting experience from your desktop, mobile device and conference room.
Wainhouse Research gave Zoom a thorough examination and said, "Mostly we like the fact that Zoom calls always work – no matter what. From the office. From home. From the hotel. From the airport. From the coffee shop. Despite our best efforts, it was hard to break Zoom… While nothing is perfect, Zoom is not that far off."
#1 in Customer Satisfaction
Zoom had a 3rd party ask Zoom customers to rate Zoom, and the results were an astounding nod of approval with a Net Promoter Score (NPS) of 62!
94% say Zoom is easier to deploy and/or use than the competition
92% say Zoom is higher quality than the competition
87% say Zoom is more reliable than the competition
75% say Zoom has increased their productivity by at least 40%
Not only Software and Software only…..
Perfect Video Conferencing offers Zoom Room Bundles and Zoom Support.
We also offer ongoing Zoom Room Training for your Administration and staff.
PVC is here to help with ongoing learning and training.
Check out our store with the latest Zoom Room Bundles.
Make Your Video Conferencing Room Zoom

Zoom Rooms
Let Perfect Video Conferencing help you make any conference room a Zoom Room. We will help you design it, set it up and provide support. You'll enjoy features such as scheduled meetings with calendar integration, easy ad hoc meetings, integrated video and audio conferencing, meeting controls on your iPad, multi-screen video and wireless screen sharing.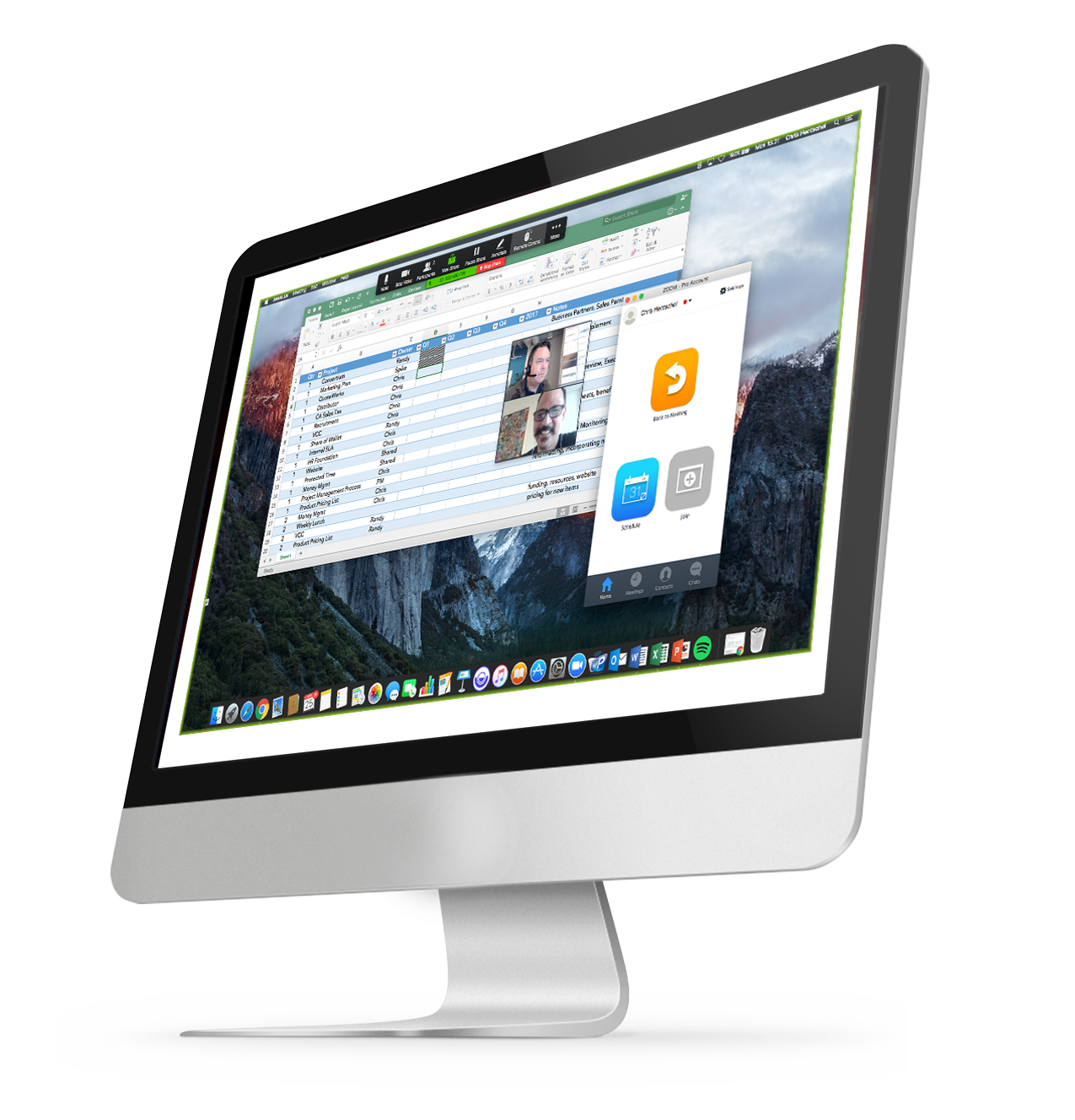 Easy Setup
Works for small, medium and large conference rooms
One tap to start an instant meeting
Directory call-out to rooms, contacts and H.323/SIP endpoints
Participants join from mobile, tablet, desktop, H.323/SIP room systems, telephone and Zoom Rooms
Scheduled Meetings with Calendar Integration
Google or Exchange calendar integration
See a list of all upcoming meetings
Upcoming meeting reminder
One-tap to start your next meeting
Touch Controls
Meeting controls on iPad
Host can mute/unmute participants and lock the meeting
Invite others from directory or by email
Up to 200 interactive video or 3000 view-only attendees
Multi-screen video and screen sharing
Two-screen option can show active speaker, content and gallery view
Wireless screen sharing, airplay mirroring or wired HDMI
Video Conferencing, Extremely Connected
Zoom Room Connector
Connect your traditional H.323/SIP room system to the cloud. Zooms Room Connector is standards-based, full-featured and flexible. Enable your H.323/SIP rooms to communicate with desktop, tablet and mobile devices. The Room Connector is also compatible with endpoints from Polycom, Cisco, Lifesize and others.
Standards-Based
Enable H.323/SIP room systems to communicate with desktop, tablet and mobile devices.
Works with video endpoints from Polycom, Cisco, Lifesize and others.
Support H.264, H.239, H.235 and G.722 protocols.
Full-Featured
Dual screen support for content and video streams.
Active speaker or gallery video layout.
Connect multiple H.323/SIP endpoints or MCU bridges.
Flexible
Cloud-based or on-premise (VM) room connector.
Up to 200 video participants or 3000 view-only attendees.
Computer VoIP audio, telephone dial-in or call-me.
From Video Conferencing to Video Webinar
Video Webinars
Use Zoom to host your next webinar. Up to 25 interactive video participants can engage with up to 3,000 viewers for a better, more interactive experience. Zoom webinars are a scalable, full-featured solution with one-click HD screen sharing, polling, Q/A, registration and reporting.
Hear it without the tolls
Premium Audio
Expand your international reach by adding global toll-free and call-out audio conferencing features. Learn more about this flexible toll-free feature.
Video Conferencing Sharing (is Caring)
Powerful Screen Sharing
Share any content, anytime, from any device
Revolutionary iPhone/iPad Screen Sharing
Screen share your iPhone/iPad apps through Zoom meetings
Mac and PC
Screen share your desktop or an individual window
Screen share a streaming video with computer audio
Co-annotate and give remote control during screen sharing
iOS/Android Document Share
Screen share photos, web pages and cloud content on Box, Dropbox or Google Drive from Zoom iOS app
Screen share photos, web pages from Zoom Android app
Co-annotate and give remote control during screen sharing
Infinite Uses
Education: display your lessons from your mobile device onto your classroom projector
Sales: make the sale by screen sharing your iOS app to showcase its features
Team meetings: wirelessly screen share any presentations from anywhere and on any device
Schedule a Free Demo