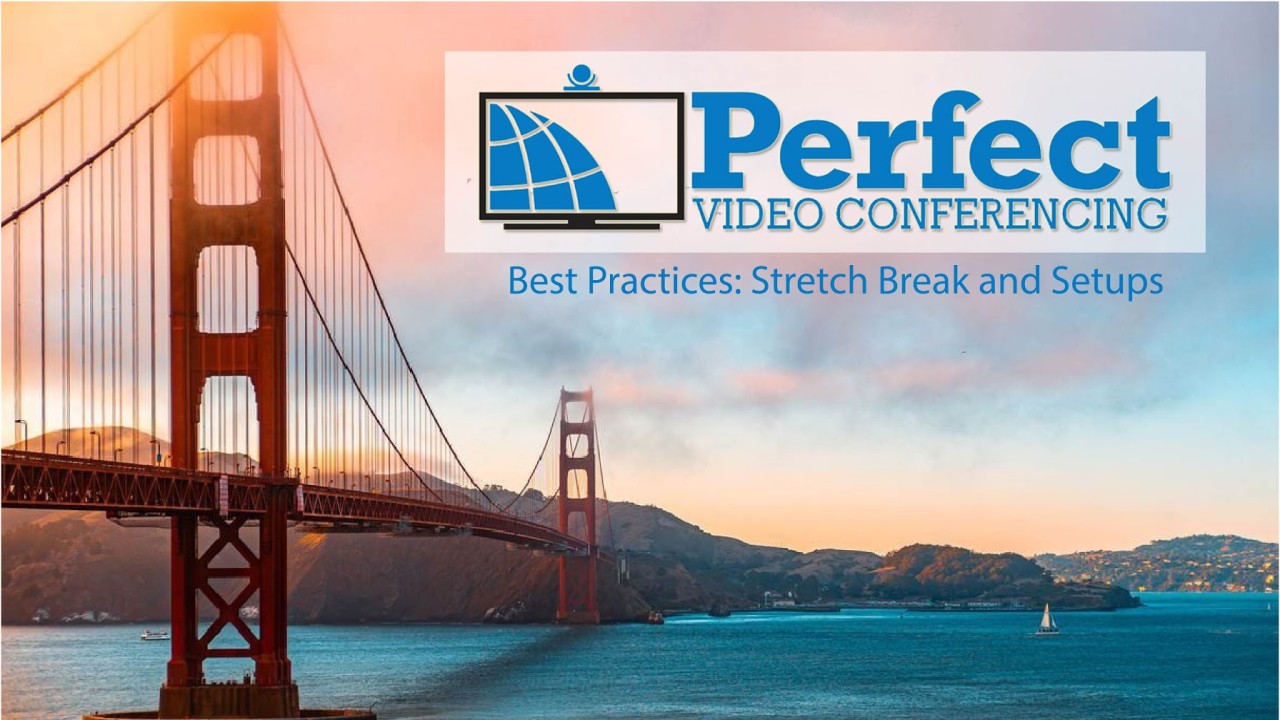 By now everyone who can has settled into work from home, remote work life. Welcome to our world and we wanted to acknowledge this transition is not easy. It requires flexibility. We are here to help. As such, Perfect Video Conferencing (PVC) wants to share some best practices in your home office. First off- managers: be flexible but still require excellence. We share what are our favorite stretch breaks and also our home office setups.
Employees – ask for digital forgiveness, but also show up ready to work. This is a new "normal" and you can help by making your home workspace as professional as possible.
Some quick tips for everyone, then some stretches. Remember, be flexible.
Set your computer up so you are comfortable.
Headsets are great, camera location and angle makes a huge difference.
Test the platform prior to joining the meeting and turn off Netflix. You can finish the internet later.
Hardwire if possible, and if not turn off anything else that might take up bandwidth. Learn how to mute and unmute.
Help a colleague who is struggling and join them on a virtual water cooler.
We are at home and remote offices all the time- so over the years, we all have developed our own favorites.
Favorite Stretches
Randy's Dab/Sprinkler Move
Start standing or sitting tall.
Lift your arms out to your sides to the level from your shoulders. Then, bend one arm in towards your body while keeping the other arm straight.
Tuck your head down to the arm that is bent and touch your forehead.
Then do the sprinkler dance move- stretching and opening the shoulders.
Repeat as needed.
Medy – Wrist rotation/fan-out fingers
Rotate wrists clockwise or counterclockwise.
Interlock fingers and fan-out.
Repeat as needed.
Mike – Bend and snap that back!
Roll out of chair and stand up.
Bend forward and touch your toes for 10 seconds.
Then snap up to smile at the web camera.
Brice – Arm Bar
Start standing or sitting tall. Grab one arm above your elbow with your opposite hand, and pull it across your body toward your chest until you feel a stretch in your shoulder.
Make sure to keep your elbow below shoulder height.
Hold for at least 30 seconds and then repeat on the other side.
Next up – get the office right and your colleagues will thank you.
Home Office/ Small Office Setup 
Randy's setup – $2,500, plus a computer.
USB camera mounted on top of tv to get the news anchor look and great position.
Sennheiser puck: Ability to walk around the home.
Close the window and have front-facing lighting.
Medy's Setup – $300, plus computer and digital correcting software.
Laptop with an ethernet connection.
USB webcam Logitech 1080p.
Wireless Logitech zone.
Virtual backdrop to avoid naked roommates.
Mike's Setup – $0 – No additional costs beyond a computer.
Built-in camera and microphone on mac- positioned so we don't get the nose hair snot shot.
Private office, door closed and working man cave.
Brice's Setup – $200 and a lot of Clorox wipes, he's in the office and getting UPS deliveries!
USB Logitech 1080p camera mounted on the top monitor
Sennheiser headset: wired
Office to himself, so COVID free and happy
In this video, we summarize our office, share what our favorite stretches and home office setups look like. Remember, be flexible in these times. Enjoy.
Connect with Perfect Video Conferencing, we are here to help!
About Perfect Video Conferencing:
Founded in 2009 by Randy N. Marcotte and John Killcommons, Perfect Video Conferencing was born of a commitment to integrity and partnership and the desire to create a boutique brand based on white-glove service to its customers.
What started as a simple conversation about shared values evolved into Perfect Video Conferencing. Those seeds of dedication to innovation and customer satisfaction has moved PVC from a shining star in a clouded sky of VARs to our own constellation of VAP – Value-Added Partner.
As our industry evolves, we continue to innovate and forge relationships in order to provide our customers with the most up-to-date unified communications solutions backed by the most customer-focused support, remaining true to those inspirations that are at our foundation.