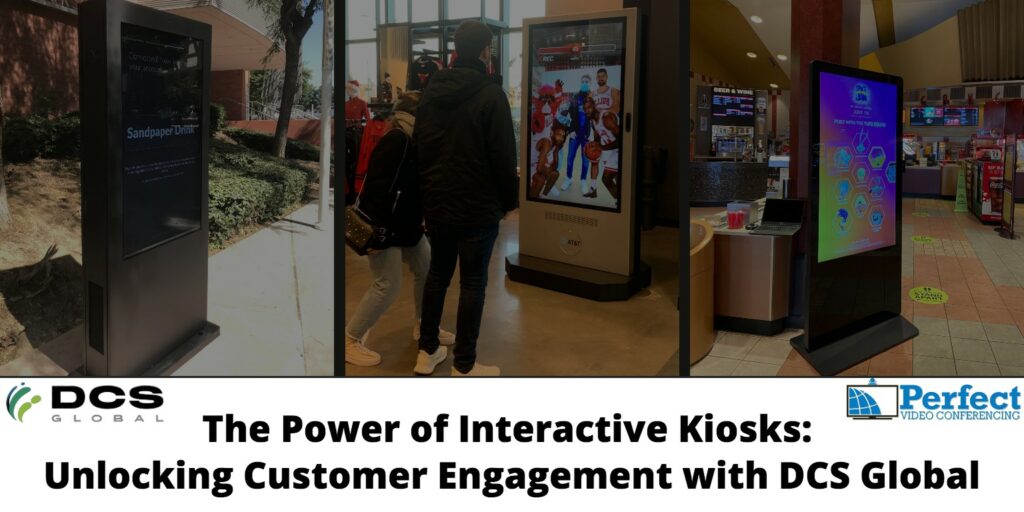 Written By: Jeff Goldstein
I like to solve problems in real-time. Let me be your guide. DCS Global can be your one-stop shop for products available today and innovations for tomorrow's demands. In today's fast-paced and technology-driven world, businesses need to find innovative ways to connect with their customers. One solution that has gained significant popularity is the interactive kiosk. My team and are devoted to providing solutions that add value, now and into the future. When it comes to acquiring the best interactive kiosk solutions, I'm your guy. As VP of Sales at DCS Global – if I can't provide it to you- I'll get the right resource aligned for fast, accurate, and scalable delivery.
To get you the optimal product, we wanted to offer some key considerations and explore why purchasing an interactive kiosk from me and DCS Global can revolutionize your business and enhance customer engagement.
Bottom lines: Yours – we will be cost-effective and scalable. Our solutions allow real-time communications, updates, and a clear engagement experience between you and your customer(s)- and we know customers are both internal and external to your business. Here are some key items I offer to you as an answer to the core question "Why should we buy?"
1- Cutting-Edge Technology:
DCS Global is renowned for its commitment to delivering cutting-edge technology solutions. Our team has consistently stayed ahead of the curve, offering state-of-the-art interactive kiosks that are equipped with the latest features and functionalities. These kiosks are designed to captivate customers, providing them with an immersive and interactive experience that drives brand loyalty and customer satisfaction.
2 – Tailored Solutions:
One size does not fit all when it comes to interactive kiosks, and that's where DCS Global truly shines. We take the time to understand your business requirements and customize kiosk solutions that align with your brand identity, objectives, and target audience. Whether you need a self-service kiosk for retail, a digital signage kiosk for advertising, or an information kiosk for wayfinding, DCS Global will create a tailored solution that meets your unique needs. This is my promise to you.
For example- I had a customer struggling with getting staffing to help with client intake at a medical facility. We deployed one of our touch screens, camera-enabled solutions to help with intake, triage, and queue assignment. Our client was able to maintain the current staff, see more patients, and serve customers better.
3 – Seamless Integration:
Implementing new technology should not disrupt your existing systems or processes. With DCS Global solution, you can be confident in a seamless integration of their interactive kiosks into your business ecosystem. I understand the importance of compatibility and provide comprehensive support throughout the implementation process, ensuring a smooth transition without any operational hiccups.
4 – Enhanced Customer Experience:
An interactive kiosk is more than just a fancy display. It has the potential to revolutionize the customer experience within your business. These kiosks allow customers to access information, make purchases, browse products, and engage with your brand in a self-guided and personalized manner. By empowering customers with control over their interactions, you create a memorable experience that encourages repeat visits and word-of-mouth referrals.
5 – Increased Efficiency and Cost Savings:
Did you know you can save money with kiosks? Investing in an interactive kiosk offers long-term benefits to your business. By automating certain processes, such as order placement or check-ins, you can streamline operations, reduce staffing needs, and ultimately lower costs. Additionally, these kiosks provide valuable data insights that help you make informed decisions, optimize workflows, and improve overall efficiency.
I'll offer another example: One of our clients struggled with reception services and having clients navigate their campus. We deployed an interactive kiosk, and two-way reception software for live video interaction and visitors were able to check in and get directed to the correct staff, building, and locations. This helped speed up customer engagement (saved time) and thereby save money for this customer. They were able to see 4 additional clients per week as a result.
Maybe you are not sure. Let's talk. I like to list and learn from your needs. My team likes to help solve problems. Let me know what keeps you up at night. In a world where customer engagement is key, interactive kiosks have become indispensable for businesses across various industries. When considering the purchase of an interactive kiosk, we can be your guide.
We want to be your partner in technology. With cutting-edge technology, tailored solutions, seamless integration, enhanced customer experiences, and increased efficiency, DCS Global's interactive kiosks are the perfect investment to unlock your business's full potential.
Reach out and embark on a transformative journey toward elevating your customer engagement.
---
About Jeff
Jeff Goldstein is a highly accomplished and results-driven sales professional, currently serving as the Vice President of Sales at DCS Global. With an impressive career spanning over 20 years, Jeff has consistently demonstrated his expertise in designing and implementing solutions that effectively address customer needs and solve their problems.
At DCS Global, Jeff holds the pivotal role of leading the sales team, as well as managing and nurturing relationships with key partners. Through his exceptional leadership skills, he guides and motivates the sales staff, driving them towards achieving their goals and exceeding expectations. Jeff understands the importance of coaching, empowering his team to reach their full potential and consistently improve their performance.
One of Jeff's greatest strengths lies in his ability to communicate clearly and effectively. He ensures that every member of his team is aligned with the organization's vision and sales objectives, promoting a collaborative and cohesive environment. Whether it's providing guidance, setting expectations, or delivering feedback, Jeff's communication style fosters a sense of trust and transparency among his colleagues.
Timeliness and accuracy are essential attributes that Jeff emphasizes within his sales team. He recognizes the importance of promptly following up with customers and partners, demonstrating a commitment to delivering exceptional service. By ensuring that all interactions are handled efficiently and effectively, Jeff creates a positive impression and strengthens relationships, ultimately driving business growth.
Beyond his impressive track record and leadership skills, Jeff Golsdein is renowned for his unwavering passion for sales. He infuses his enthusiasm and energy into every aspect of his work, inspiring and motivating those around him. Jeff's passion not only instills a sense of purpose within the sales team but also permeates throughout the entire organization, fostering a sales-focused culture that strives for excellence.
With his extensive experience, outstanding leadership qualities, and relentless dedication to sales, Jeff Golsdein continues to make a significant impact at DCS Global. His innovative thinking, customer-centric approach, and ability to drive results position him as an invaluable asset in the organization's pursuit of growth and success.
About DCS Global:
DCS Global (#dcsglobal) is an collaboration, consulting, services and audiovisual (AV) integration company that provides various services related to digital signage, wayfinding, and kiosk manufacturing and deployment. The company specializes in creating interactive and engaging experiences for customers, visitors, and employees.
Their services include:
Digital Signage: DCS Global designs, installs, and manages digital signage systems that help organizations effectively communicate with their audience. These systems can display content such as images, videos, and live data, and can be customized to meet the specific needs of each client.
Wayfinding: The company offers wayfinding solutions that help people navigate complex environments such as hospitals, airports, and campuses. These solutions use interactive maps, directories, and other tools to guide visitors to their desired destination.
Kiosk Manufacturing: DCS Global designs and manufactures custom kiosks for various industries, such as retail, hospitality, and healthcare. These kiosks can serve a variety of purposes, such as self-service check-in, product information, and customer feedback.
AV Integration: DCS Global also provides audiovisual integration services for businesses of all sizes. These services include the design and installation of audio and video systems, conference room setups, and video walls.
DCS Global offers a comprehensive range of services to help organizations enhance their communication, customer experience, and operational efficiency through innovative digital solutions.