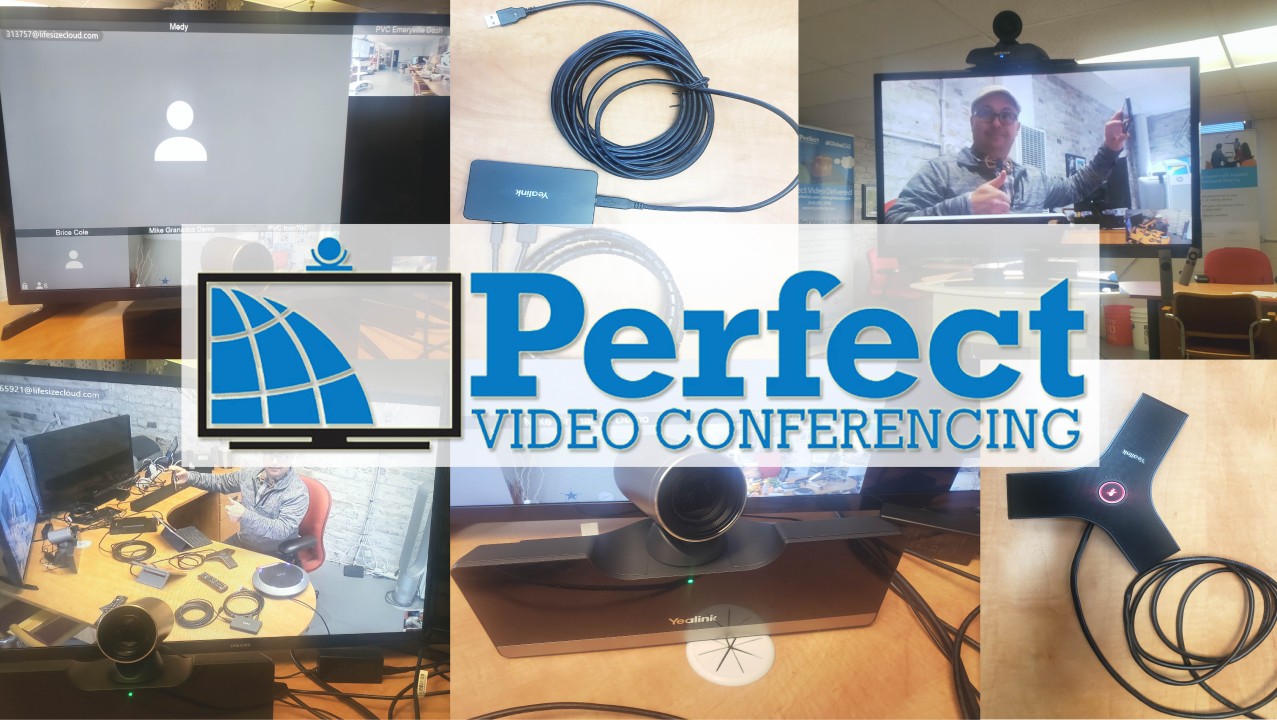 The team at PVC was asked to review and comment on Yealink's MS Team small bundle kit, designed for a mid-sized conference room holding 8-10 people. Our other Team or Skype installs have been with Logitech Tap, Logitech Smartdock, Starleaf, and Crestron Mercury.  We've also built our own kits to support Unified Communications and software-based codecs. Yealink came up with (what we think) is a wonderful kit that addresses install issues and works well with Microsoft Teams.
The MVC500 is Microsoft certified. Yealkink supports wireless microphones, we tested the wired version.
All systems we deploy are either tested or certified to work with MS Teams and we are a Lifesize global partner.  Lifesize has been the bulk of our work, so therefore it acts as a baseline for comparison. We dialed in from an Icon700 and use the Lifesize bridge, with Yealink dialing in via Teams. Lifesize offers a 4k and higher quality bridge that integrates nicely with Teams. Many users like the desktop functionality of Teams, so using it to dial out to a higher quality bridge-like Lifesize makes sense and scales nicely.
There are known issues with MS Teams deployment in conference rooms, such as:
Bring your own device (BYOD) – What gear to use in the conference room?
– How do you guarantee consistency and quality?
Managing cables – If the user can touch it, they likely will find a new way to break it.
Access for updates and support, either onsite or remotely.
User confusion between desktop and conference room due to inconsistent software interface.
This review focuses on using Yealink MS Teams Kit MVC500 (wired) as your gear for MS Teams.
Cons:
This Yealink kit is all wired, with USB cables and 3.5 MM cables and while this is simple enough to expand and extend, using Cat6 cabling is more flexible and easier to fix if damaged.
There are other manufacturers that have wireless capabilities to control tablet.
Content sharing is wired (USB/HDMI)- though you could plug in a wireless kit like Barco or Lifesize Share as a workaround.
This kit also comes with a wireless microphone version with a slightly higher price point.
Pros:
Layout and cable management – it is simple, easy to follow and doesn't require any special tools.
Plug it in, it just works – It makes an awesome alternative on the price point
A clean, small form factor on the control display unit, which also functions as a keyboard to the NUC used for a computing resource.
Great mounting kit – less stress on wires after installation, slim form factor and mounting screws so AV deployment is easy.
Camera optics are good, and color correction and white balance out of the box doesn't look over-processed or filtered as it did on prior Yealiink cameras- colors look natural.
This kit is perfect for small huddle rooms for 5-6 people due to the limited range of pan-tilt-zoom and would do fine in a medium-sized conference room (8-10 people). When the camera was tested across a 40-foot span, the image was grainy, so we would move to a higher-end unit for larger rooms.
We were skeptical about this unit as Yealink has had some misfires. With this Teams kit, they knock it out of the park. Logitech Tap, Crestron, Starleaf are all leaders in this space and certainly, Yealink will join them.
Yealink wins hands-down on layout and cable management.
Enjoy this video PVC CEO Review of Yealink MS Teams Kit MVC500.
Connect with Perfect Video Conferencing, we are here to help!
About Perfect Video Conferencing:
Founded in 2009 by Randy N. Marcotte and John Killcommons, Perfect Video Conferencing was born of a commitment to integrity and partnership and the desire to create a boutique brand based on white-glove service to its customers.
What started as a simple conversation about shared values evolved into Perfect Video Conferencing. Those seeds of dedication to innovation and customer satisfaction has moved PVC from a shining star in a clouded sky of VARs to our own constellation of VAP – Value-Added Partner.
As our industry evolves, we continue to innovate and forge relationships in order to provide our customers with the most up-to-date unified communications solutions backed by the most customer-focused support, remaining true to those inspirations that are at our foundation.